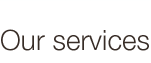 We advise family offices and institutional investors (pension funds, insurance companies, asset managers, private equity fund managers, foundations) on their private equity programmes. As we put great emphasis on a high-quality and tailored service for our clients, we focus on only a few mandates at any one time.
We act on the basis of single, short-term advisory assignments as well as longer-term managed accounts solutions. Our geographic focus is on Europe and the Emerging Markets. We invest in the USA as part of global portfolios. Our services include the setting up or development of private equity programmes, from the definition of the optimal portfolio allocation through to the execution of the defined programmes.
This includes legal and tax structuring, selection of the best private equity funds or investment opportunities after a state-of-the-art due diligence, preparation of the investment recommendations and optimisation of the private equity portfolio.
We offer our clients cutting-edge portfolio management tools, not just at the level of the portfolio as a whole but also at the underlying single investments level. Our clients can simulate future cash flows as well as movements in portfolio value. Additionally, we provide our clients with liquidity solutions, either in the context of a secondary transaction or through the refinancing of commitments in cooperation with selected banking partners.